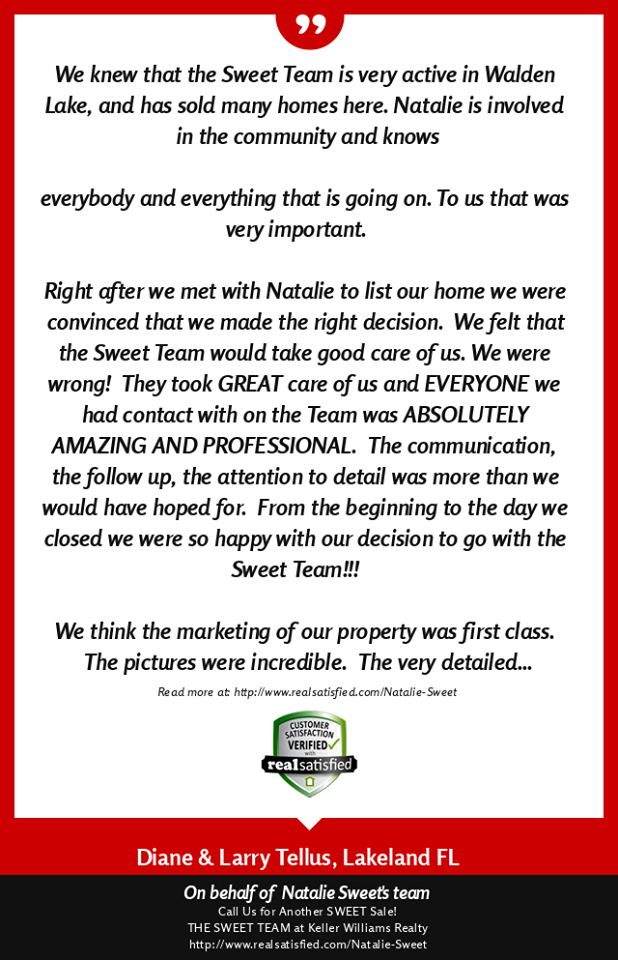 We knew that the Sweet Team is very active in Walden Lake, and has sold many homes here. Natalie is involved in the community and knows everybody and everything that is going on. To us that was very important.

Right after we met with Natalie to list our home we were convinced that we made the right decision. We felt that the Sweet Team would take good care of us. We were wrong! They took GREAT care of us and EVERYONE we had contact with on the Team was ABSOLUTELY AMAZING AND PROFESSIONAL.

Selling your home is a difficult process. Working with the Sweet Team made the entire transaction EASY!

The communication, the follow up, the attention to detail was more than we would have hoped for. From the beginning to the day we closed we were so happy with our decision to go with the Sweet Team!!!

We think the marketing of our property was first class. The pictures were incredible. The very detailed communication of what to expect and what we should do was so helpful to us.

Thank you Natalie, Angel, Leslie & Natasha!!!!
— Diane & Larry Tellus, Lakeland FL, Sellers